Custom Home Mapper (Oculus Quest)
A downloadable AR/VR App Collection

release v4.8, updated August 21st
- RECENT UPDATES: https://discord.gg/eW3px5YQ6g
PROFILES (Save setup to file & Sample profiles)
BUILDER (Elevators for multi-level custom homes)
VIDEO PLAYER (Multiple Screens, flat and roof mode)

Replace the Oculus Guardian with a flexible alternative, and map out your entire home as a giant VR playspace.
THE SETUP



Step 1 - Trace the exterior perimeter of the space you want to play in. Every closet, bedroom, bathroom or kitchen can become part of your play area, but it is recommended to start with a single room setup. Once you are familiar with the tools, go ahead and connect as many rooms as you want!
Step 2 - Mark out individual large objects. Couches, beds and desks can easily be hidden behind a barrier cube with three simple clicks.
Step 3 - Set an Anchor; a real world position in your home that you will use to easily re-align the playspace each time you restart the app. The program will remember your custom setup, game high scores, and detailed apartment creations... so you'll only need to do this setup stage once.
CUSTOM HOME CREATION
With the basic geometry of our home mapped and aligned, its time to start adding objects, customizing our walls and making our own unique VR environment so we can invite guests to visit (via multiplayer), or just hang out and maybe watch TV (with the Video Player)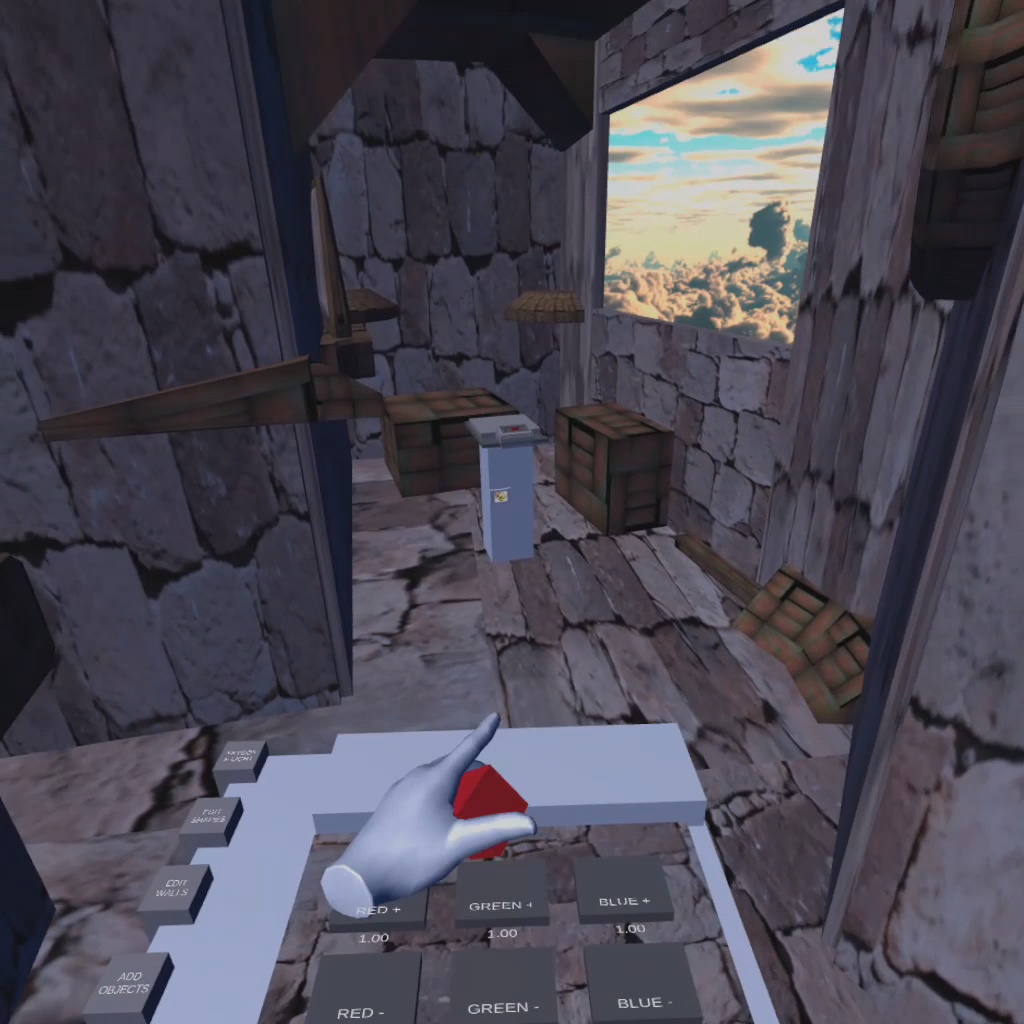 200 prefab objects - from laptops and desk lamps to microwaves and the kitchen sink, most common household objects are ready to drag and drop into the world
20 Skybox environments - from undersea to outer space, create your home in whatever part of the universe you want.
Editing / Deleting and resizing tools - you can design your world to be as close to a match to your real home as possible (or as different as possible, the choice is yours)
NEW FEATURES now include a video player wall, point lights and passthrough portals as well as co-creation in a networked multiplayer session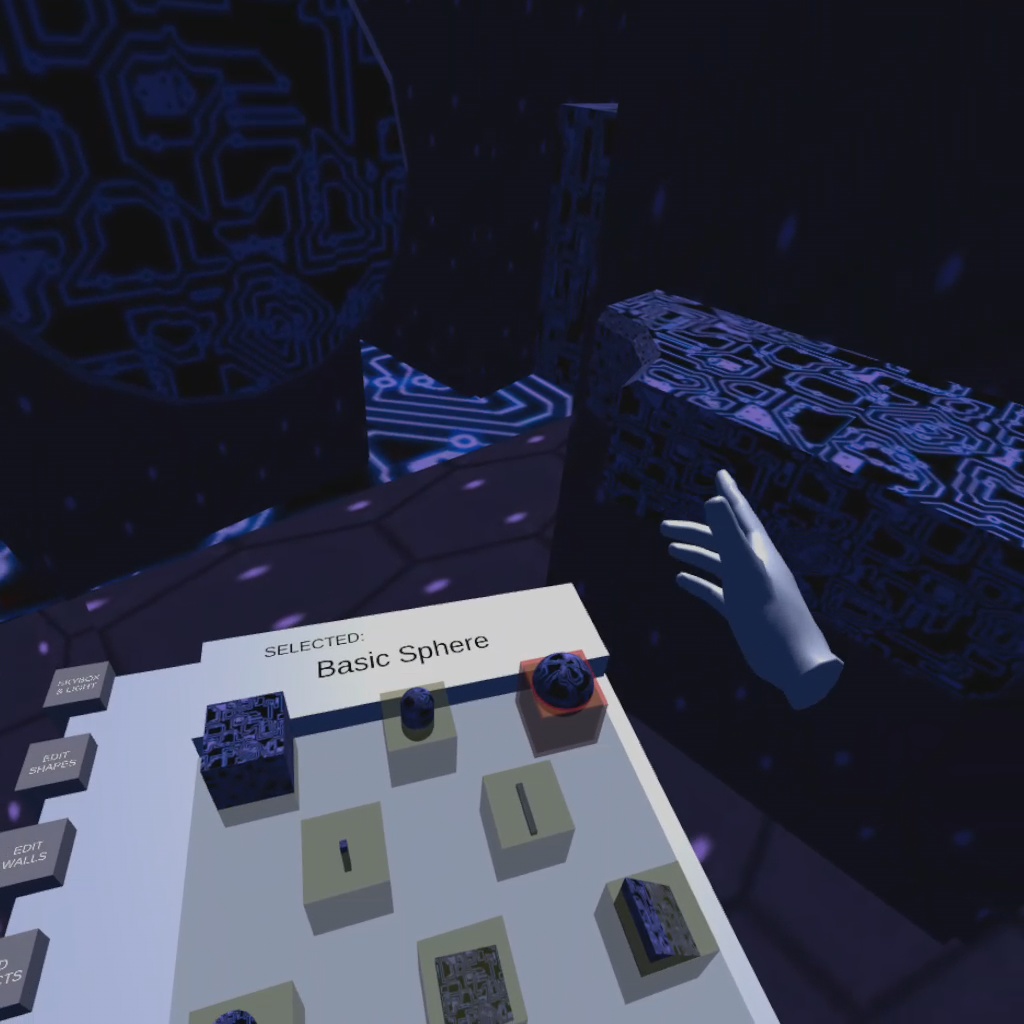 THE GAMES
In an instant, your virtual home transforms into a spaceship, or a minigolf course, or a castletop archery challenge. Your home is the playspace, and the games are designed to encourage movement and activity in different spaces of your home.
Each game has AR modes, different PVP and Co-op Multiplayer modes, and many of the games are setup for Shared-Space/Co-Location (two Quests in the same home layout)

Current Version includes the following games
More games will be added in future updates

LUNAR BALL
Zero gravity disc golf variation with obstacles and goals that spawn in different rooms. (SINGLEPLAYER, COOP, SHAREDSPACE)

CASTLE DEFENDER
Your castle is surrounded and the enemies have broken down the gate. A VR archery tower defense game. (SINGLEPLAYER, PVP, COOP, SHAREDSPACE, AR MODE)

VORTEX
-=classic shoot-em-up action with a miniature spaceship attached to your hand. (SINGLEPLAYER, PVP, COOP, SHAREDSPACE, AR MODE)

LIGHTSPEED SMUGGLER
-=Your home is a spaceship. Defend your ship from other fighters and robots that will try to board you. (SINGLEPLAYER, MULTIPLAYER, AR MODE)
TINY GOLF
-=Minigolf, but it's your home. (SINGLEPLAYER, MULTIPLAYER, AR MODE)
VERTICAL CLIMBING ZONE
-=Procedurally generated climbing challenges. (SINGLEPLAYER)
I AM HIGHLY EXPLOSIVE
-=Move from one area to another in your home while avoiding collisions with other objects (and yourself!) (SINGLEPLAYER, AR MODE)
SNAKE MASTER
-=a variation on the classic snake game, but played in a 3d space. (SINGLEPLAYER, PVP, COOP, SHAREDSPACE, AR MODE)
ULTRATOASTY
-=a 'time moves when you move' shooter and melee game with true freedom of movement. (SINGLEPLAYER, AR MODE)
MECH MASTER
-=an idle RTS based on gathering minerals and creating drones on a desolate landscape. (SINGLEPLAYER, AR MODE)
-----------------------------------------------------------------------------------
* Program is in active development since it's release in September 2020, updates are still frequent. Join the DISCORD GROUP to meet with other players, ask questions to the dev and set up multiplayer meetings to visit other peoples home.

* New Users should read the SETUP AND DOCUMENTATION guide. Passthrough features (AR) are now available, and all games have optional AR/Non-AR mode.

* Free GUEST APP available HERE for Flatscreen android phones and Quest

Please contact curiousvrlabs@gmail.com for any and all support requests, or use the discord. I really, really want to help you experience this new style of multi-roomscale VR! I usually respond to emails right away (9-5PST) and am happy to arrange an in-app visit, either to your home, so I can help with some problems you might be having, or to my virtual apartment, where I'm happy to discuss the program over a cup of tea :) Thanks for supporting this project!
Purchase
In order to download this AR/VR App Collection you must purchase it at or above the minimum price of $7.99 USD. You will get access to the following files: